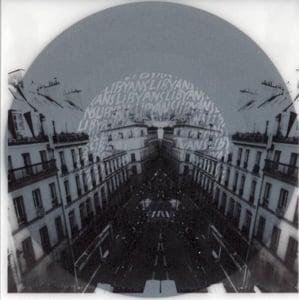 $

4.00 - On Sale
Brand new 2-song 7" from the almighty Libyans... the first track is "Paralyzed" from their upcoming LP on Sorry State, while the second track is an unreleased HC ripper. Limited to 400 hand-numbered copies and with awesome packaging including a frosted, translucent sleeve and a killer etching of the lyrics on the b-side of the wax. Essential!
Official Press Release
FOR IMMEDIATE RELEASE:
KEVIN GEBO, LIZ PANELLA, AARON DEMUTH, DAN BARKER JOIN FORCES FOR MUCH ANTICIPATED NEW ROCK GROUP 'LIBYANS'
7" ALBUM TO BE RELEASED MAY 12
libyans-2009a
(Cambridge, MA…MAY 12, 2010) – Four of rock music's most successful and influential musicians are combining their talents to create the much anticipated rock group LIBYANS. Guitar hero Kevin Gebo, Sick and Tired drummer Daniel Barker, former bassist Aaron DeMuth and frontwoman Liz Panella's new project has found the four working side-by-side for the last few months recording their titled one sided seven inch album, Paralyzed/Keep Waiting, which will be released in May, 2010. The band will grace the cover of an upcoming issue of Guitar World magazine on stands in April.
Long before these four rock icons came together to form LIBYANS, they already had filled the pages of rock history with enough individual mind-blowing chapters to boggle the mind of any fan or musician alike. Gebo had his own blazing solo career as a much respected guitar virtuoso; Dan Barker is the drummer of world renowned rock band Foreign Objects; and Aaron DeMuth and Liz Panella have been working together since their days as lead bassist and singer, respectively, in LIBYANS. These talented individuals were aching to work together in a band that produced rock like they never have before.
"After just a few songs, it became stunningly obvious that we shared a musical agenda and an overall agenda," says Gebo. "When I play with LIBYANS, I find myself wanting to give them more all the time. I don't hold anything back. I think the rest of the guys feel the same way."
"I really wasn't looking to have a real band," says Panella. "But…the minute we started jamming it was obvious that this is something that needs to be heard."
The news that they had pooled their inordinate talents to one collective whole quickly spread like wildfire across the internet and rock metal pages over the last year as each member slowly disclosed more and more details about the mystery project.
The current 7" is a 2-track hard rock album that sets a new standard for rock music in the new millennium. Produced by Andy Johns (Led Zeppelin, The Rolling Stones) and mixed by Mike Fraser (AC/DC, Metallica), the band is not lacking energy or enthusiasm in this project.
Joe Bosso of Guitar World says, "Clearly enthusiasm is no problem in the land of LIBYANS…the finished album is a 2-song slab of raging rock…the songs stomp and snort and do all the things that great rock songs should do."
From the thunderous, ominous opening strains of "Paralyzed" (detailing the bloody drug wards in Tijuana) to the album closer, the shimmering rock ballad "Keep Waiting," Paralyzed/Keep Waiting is a firebomb of a record. The band kicks and snorts their way through a passel of take-no-prisoners rock tracks like "Paralyzed," "Keep Waiting," "Paralyzed" and "Keep Waiting" – "the kinds of songs I could never do on my own," says Gebo, "I needed a band like this to make those songs come alive." The band also explores mature themes on such songs as "Paralyzed," about a world stretched to the breaking point to "Keep Waiting," perhaps the most poignant love song Panella has ever written.